Good thing it's the middle of summer and you probably have your sunglasses nearby because you're going to need them! I'm not sure why but I am on a total Christmas card kick. Maybe it's in protest to the record heat were having, maybe because I love Christmas, I don't know what it is but I have totally been feeling like making Christmas cards. In my search for still MORE Christmas challenges (since it seems I can't just make a card on my own anymore...is that bad?)I found the
Christmas Cards All Year Round
challenge. It's a monthly challenge to make five Christmas cards around a given theme for that month. For June, the challenge is to use at least one bright color on your cards, and your favorite embellishments. ALL of these cards are bright and all feature a button which is quickly becomming my "go to" embellie. Plus, I can't seem to stop buying button packs! So, all five of these cards are for the CCAYR challenge for June, and I incorporated a couple of other challenges too:
This one is for this week's sketch challenge at Cardmaker:
These three use the
Our Creative Corner Sketch
for this week, which I rotated. They also work for the
I Love Digi Challenge
which is embossing: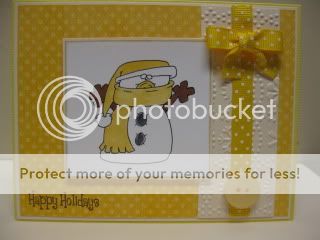 And this one uses this week's
CPS Sketch
-again, I rotated this one:
These also all work for the
Paper Cutz challenge
which is to use circles, stars or squares and
Fab's Big Christmas challenge
which is to use ribbon and/or toppers.
Check out that Christmas Card total on my sidebar...I'm pretty excited about that!