I made this card using this week's sketch from
Mojo Monday
and the color combo from this week's
SPCC Color Combo
which is black, white and rust. I'm using these colors for this week's
Whimsy Stamp Challenge
which is to use fall colors. I got this image today from the Pink Petticoat. Isn't he adorable? I do have a problem though. He's a .tif image and I don't know how to work with those. I'm used to using jpeg files and I know how to resize them. I can't figure out how to resize this guy so if anyone knows, PLEASE let me know. I've contacted the PP to find out what I'm doing wrong so hopefully I'll hear soon.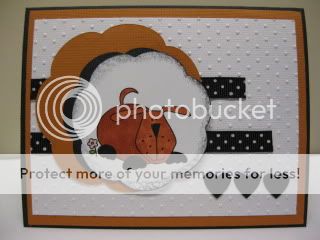 Card Recipe:
Image: Pink Petticoat "Little Friends"
Ribbon: Paper Studio
Nestabilities: Blossoms
Copics: E08 "Brown", C1 "Cool Gray #1", 110 "Special Black", G24 "Willow" and RV11 "Pink"
Embossing: Swiss Dots